Good morning guys!
Today I come to you with a giveaway that I'm really excited about. Why? Because it's for one of my favorite food staples- tofu!
I've come a long way since I first tried tofu. I remember back in 8th grade I told my mom I was going to become a vegetarian. My first plan of action was to add tofu to the grocery list. I bought soft tofu and tried to scramble it in a pan with some vegetables and call it dinner. I remember thinking…wow, this stuff is AWFUL.
Years later, I'm not a vegetarian but I have learned lots of creative ways to prepare tofu to highlight its wonderful taste and texture (no more jiggly, flavorless scrambles).


I think a lot of people still may think of tofu the way I did when I was younger, but that's a misconception. If you don't believe me, check out some of my favorite tofu recipes on my recipe page and tell me you don't think they look good!
Nasoya is also on a mission to help people get to know Tofu a little better. They've set up a new website called Tofu U where you can easily check out Tofu How-To's (from buying, to prepping, to cooking), as well as delicious recipes. One of my favorite features on the site is the Dish Whiz where you can select the ingredients you already have in the house, and the whiz will come up with a dish you can make using them.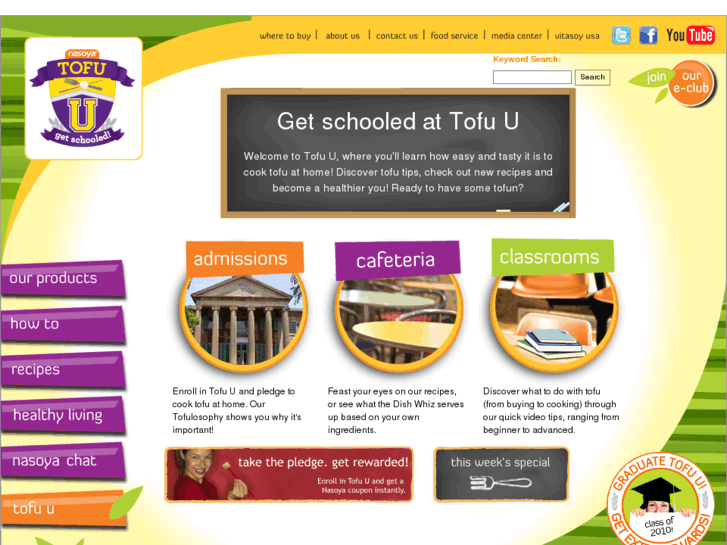 Nasoya is also encouraging everyone to take the Tofu U pledge to cook tofu once a week for a month. They will help by sending you coupons and if you cook four meals at home you can win Nasoya gym shorts or a t-shirt.
Nasoya is also willing to give one of my readers an extra bonus with 5 coupons for FREE tofu products and a t-shirt! This is a great way to get started!
Lucky for you there are 3 ways to enter this giveaway!
Go to Tofu U and take the pledge- leave a comment letting me know you did
Like Nasoya on Facebook (you can also enter their open enrollment contest and win $1000) leave a comment letting me know you did
Share with me your favorite way to cook tofu- links to recipes are appreciated!
 That's it! I'll pick a winner on Friday! (open to US residents only).
This giveaway is sponsored by Nasoya. I was provided free tofu coupons and a t-shirt from the company.